Gaming
How has Atlas-IAC adapted to the Brazilian market?
2 minutos de lectura
(Lisboa, SoloAzar Exclusive).- With the Brazilian market still in its relative infancy, Atlas-IAC has got ahead of its competitors to showcase its world-leading product on the LatAm stage. The sheer size of the region has already had compelling results for the company and we spoke to Atlas-IAC's Chief Sales Officer, Miloslav Ivanov, to discuss what is next on the sportsbook's agenda.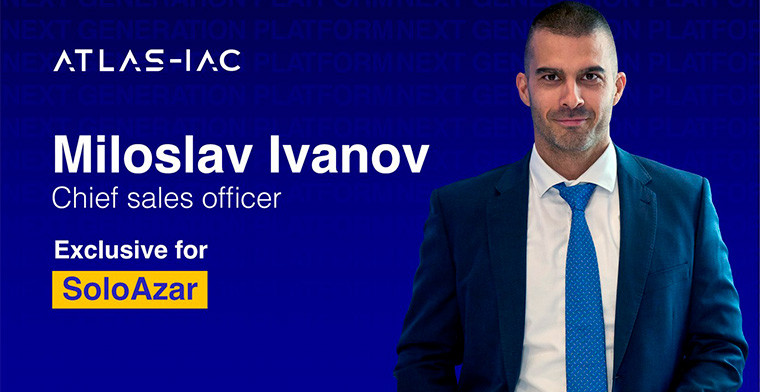 How have you adapted Atlas-IAC's products for the Brazilian market?
Atlas-IAC's products go beyond localization, we are talking about personalization and different product strategies. We work together with each partner before and after launch to make sure that we not only reflect their market strategy but also work together in finding competitive advantages and differentiation within the same market.
Markets and territories have various differences like payment methods, languages, currencies, products or games, but we also look beyond these elements as we make sure that each partner can have its own market niche which will be profitable.
The main difference between Brazil and Europe lie mainly upon the regulatory environment and the reduced market share of sportsbook products against casino in Brazil, but I´m pretty sure this will change once a proper multi-channel operation is regulated. Also, there is a lower average player value in Brazil than in Europe but this gap has been closing in the last few years, so loyalty is key.
The company has been operating since 2019 and has grown exponentially in a short period of time. Based in Lisbon, why did you decide to approach the Brazilian market first within the LATAM region?
Firstly, our decision was made because of the size and scope of the market and secondly the conditions of the market being more open allowing for lots of competition.
We have also had the right strategic partnerships that have helped introduce our brand while learning as much as possible about the market and its needs in terms of operational tools. From this, we have a solid and extremely scalable platform and an automatic, almost risk-free sportsbook product that increases profitability where others fail to do so. Complete automation of sports betting at any given time, covering tournaments, countries or sports with a complex and comprehensive risk management tool that mitigates potential risks in advance, just like a standout retail solution are all the strengths that Atlas-IAC can bring to the table right away.
We base our success in combining the most advanced technology, with experience and know-how on sportsbook trading and risk management as well as bringing retail units management to a next level. Our flexibility to adapt and produce a winning formula for each partner individually goes far beyond general market considerations. In my opinion, the success in a market has so many factors that is hard to select just a few but for a technological platform, the success comes mainly from decades of knowledge and listening to what partners need for the future, and concentrate the technological development in ensuring less dependency on humans, and the prospect of errors.
What do you think about the regulatory law situation in Brazil?
Given the latest developments, many product verticals are included and this makes it better for the success of the operations apart from the control on illegal gambling activity. In my opinion, we have already waited a long time for Brazil to regulate so it´s fine to wait a bit longer and go live in a regulated national environment that covers not only sportsbook but also other verticals like casino, bingo and a "jogo do bicho" with rules, control and full transparency.
What challenges do you face in the Latin American market?
It might sound simple but the main challenges are a lack of regulation, economic growth and currency exchange variances, political stability and lack of specialization of iGaming middle management positions. Overall, I see both external and internal factors which are normal factors which shows a series of markets not reaching maturity status yet. Therefore, from a supplier´s point of view, you have to be patient, supportive, focused, and be adaptable to changing environments which may present different circumstances.
In a previous interview made at SoloAzar, you told us that your goal is to continue expanding in Latin America, the Caribbean and Mexico. Could you comment on this?
Although Brazil is still a key focus for our development and growth, without putting names to the labels we are working on different projects in other LatAm countries, Africa and Asia. In most cases a lot of the new plans really have a dual approach with Brazil and the rest of LatAm, or a multi-country approach, so we are talking about mid to long-term partnerships that require a high degree of personalization per partner and country by country preparation.
Categoría:Gaming
Tags: Sports Betting, Sportsbook , betting software, ATLAS- IAC,
País: Portugal
Región: EMEA
Event
(Sofia).- EGT Digital's iGaming platform X-Nave was acknowledged as "Online platform of the year" from the 2023 edition of the BEGE Awards. The competition traditionally accompanies the BEGE Expo show and the EEGS conference and this year gave awards in a total of 22 categories, covering both land-based and digital aspects of the gaming industry.
Friday 01 Dec 2023 / 12:00
(Sofia).- EGT reaped great success at this year's edition of the BEGE Awards, taking 3 prizes from the competition. At a ceremony held at Club Black & White at Grand Hotel Millennium in Sofia on 21 November, the Bulgarian manufacturer of gaming equipment received awards in the "Supplier of the Year" and "Jackpot Concept of the Year" categories and the company's CEO Vladimir Dokov was acknowledged as "Executive of the year".
Thursday 30 Nov 2023 / 12:00
(Sofia). - It was a great conclusion to the exhibition year 2023: The Balkan Entertainment & Gaming Expo (BEGE) in Sofia, one of the most important B2B gaming trade fairs in Eastern Europe, once again proved to be an extremely successful and well-attended event.
Wednesday 29 Nov 2023 / 12:00
SUSCRIBIRSE
Para suscribirse a nuestro newsletter, complete sus datos
Reciba todo el contenido más reciente en su correo electrónico varias veces al mes.
PODCAST
MÁS CONTENIDO RELACIONADO