Interviews
After an outstanding performance at ICE london, Sportradar is betting on a great year in iGaming and in sports
2 minutos de lectura
(London, SoloAzar Exclusive).- Mateo Lenoble, Sportradar Regional Sales Director in LATAM, gave an exclusive interview to SoloAzar to talk about the latest products and novelties they led to ICE London Event, held from the 7 to 9 of February.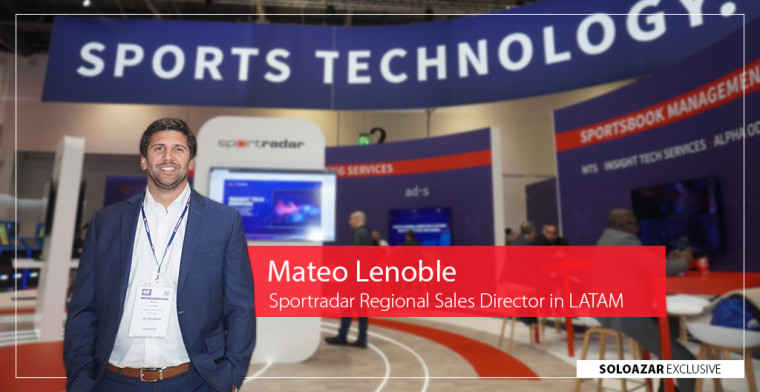 What were the expectations and goals for this ICE edition?
We were excited to be attending ICE London. Sportradar was ready to show our products and services including: Computer Vision – Table Tennis demo showing Sportradar's tech capabilities and our leadership in the transformation of the industry; Managed Betting Services – presenting the latest products and services outlining how they will benefit operators; Fan engagement – highlighting how engagement through AV and ad:s solutions can help operators acquire new customers, offer an enhanced customer experience and drive growth.
What novelties did you present?
Regarding sales, at ICE, we showed how Sportradar's ad:s technology can broadly benefit online casino operators and the iGaming industry. The marketplace is increasingly competitive and whilst there are thousands of casino games available to punters, most operators tend to only promote the same half a dozen titles to their customers because it is nearly impossible to personalize advert creative at scale. ad:s is a data-driven marketing performance platform that uses technology to automate media buying to ease the burden on digital marketers. This technology underpins the services we offer for online display, video and paid social media advertising.
The ad:s paid social service changes that, providing operators with the means to deliver personalized and highly targeted advert creative at scale across social media platforms like Facebook, Snapchat and Instagram. A game-changing solution helps operators improve engagement with their customers and broaden audience reach.
In addition to the paid social media service, our core programmatic advertising solution can provide casino operators with a means of efficiently and effectively acquiring new customers. It was initially launched to market in 2019 with a real focus on sports betting, but we have since developed the solution and tailored its capabilities to meet the needs of casino businesses, as well.
Furthermore, the lifetime value analysis we've conducted for the customers acquired through the ad:s platform shows that these bettors are generating more positive revenue for clients that actively use our services. So, the quality of the customers acquired through ad:s is high. Our ad:s service is continually evolving and I'm excited about the benefits and efficiencies it can drive for marketers within the casino space.
How was the visitor's feedback like?
This ICE's edition was the biggest, so Sportradar was ready this year. We extended our space in order to demonstrate some of our dynamic products and services. Therefore, attracted the industry's thought leaders and innovators in this incredible opportunity for us to meet clients, network and share ideas with our peers.
In which markets is your company currently present?
About markets, our technology and services are available to customers in all markets we serve. Sportradar is the trusted partner of more than 1,700 sports federations, media outlets and sports betting operators across 120 countries worldwide. They rely on our knowledge and technological expertise to grow their business. I am leading in Latin America and I will always be available to clarify any doubts about our services in the region.
What is your opinion regarding the change of location of ICE expo for 2025 and in which of the four cities (Madrid, Barcelona, Paris and London) would you like this show to be held?
The organization of the event will announce the host city for next year's next semester. As we are talking about four world-famous cities that are prepared to host big events, regardless of choice, I believe ICE will always be one of the largest and most important industry events.
Can you tell us the goals and plans for this year and in which countries would you like to expand or grow?
We use to say that massive secular tailwinds are driving the growth of the industry and as a company positioned at the center of this ecosystem, we will continue to focus on developing innovative products and delivering high-value solutions that solve customer problems and help them grow their businesses.
We will also further leverage our relationships with leagues, operators and media companies to create an amazing world for sports fans, as well as support the goals of our industry related to establishing a betting environment that is easier for fans to access and more exciting and engaging to experience. In emerging markets, we help our clients and operators understand the industry and improve customer engagement.
This has been one of our main goals since we started working in LATAM. Regarding the region, Brazil is naturally the main market due to the size of the country and population, but we see a huge potential in the Argentinian market, the consumers there are soccer fans, which is the sport that they bet on the most. Still, sports betting, in general, has significant room for growth.
Which other trade shows are you going to participate in this year?
Sportradar will be present at all the main events in the sector. This year, we have a very full schedule. Next month we will be attending the GAT Colombia and throughout the year at several others.
Categories: Events
Tags: Sports Betting, Sportradar, Sportsbook , ICE London, Sports Gaming , Online Betting,
Region: Europa
Sign Up
To subscribe to our newsletter, please fill in your details
Receive all the latest content in your email several times a month.