Interviews
IGT stood out at SAGSE Buenos Aires floor with their PeakDual 27 cabinet
2 minutos de lectura
(Buenos Aires, SoloAzar Exclusive).- Florencia Bobbio, IGT Director of Sales, gave an interview to SoloAzar about the presence of the firm during the SAGSE event in Buenos Aires, held from April 9 to 20, at the Hilton Hotel, Buenos Aires. Florencia commented on their awarded winning Prosperity Link game presented on the event, as their new PeakDual 27 cabinet, with very good feedback from the public. Also she talked about their future plans in the Latam market and their presence at G2E Las Vegas.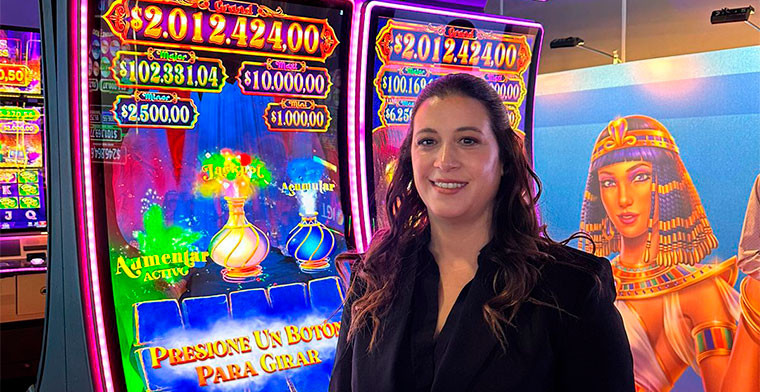 1. What was the focus of IGT's exhibition at SAGSE Latam 2023?
This year at the SAGSE Latam tradeshow, IGT had the opportunity to network with our customers and preview our regionally attuned multi-level progressive (MLP) portfolio on the Company's latest hardware.
We were excited to introduce the award-winning Prosperity Link game to operators in Argentina. This MLP has had excellent performance results in North America, and we demonstrated two of the game's popular themes, Cai Yun Heng Tong and Wan Shi Ru Yi, on the PeakSlant49 cabinet.
Other MLP highlights in IGT's stand at SAGSE were Mystery of the Lamp with combined bonuses and the highly entertaining Egyptian Link Ramosis' and Nefturi's Treasures featuring three engaging jackpot opportunities. These titles were demonstrated on the versatile PeakSlant32 cabinet.
Another focal point in IGT's booth at SAGSE was the striking new PeakDual 27 cabinet.
The latest addition to IGT's successful "Peak" family of cabinets, the PeakDual 27 features two high-definition monitors and a sleek ergonomic design that will provide a comfortable play experience and stand out on the casino floor.
2. After the end of SAGSE, what are the next steps of the firm during this year in Argentina, related to the business?
We are dedicated to continuing to evolve the player experience in Argentina and drive growth for operators with our market-attuned games and hardware.
Our customers can rely on IGT to deliver industry-leading gaming solutions that excite players and energize the casino floor.
IGT will continue to participate in and host several industry events throughout the LAC region this year to network with existing customers and build new relationships.
Additionally, we will have a commanding presence at G2E in Las Vegas in October to showcase all of IGT's latest innovations and explore new opportunities with our customers.
Categories: Events
Tags: IGT, SAGSE, slot, International Game Technology,
Region: Europa
Sign Up
To subscribe to our newsletter, please fill in your details
Receive all the latest content in your email several times a month.