Interviews
Successful debut of Diecimilauno at ENADA Rimini with a unique new product
2 minutos de lectura
(Rimini, SoloAzar Exclusive).- Yesterday, during the first day of ENADA, Alessandro Polo, CEO of Diecimilauno SPA, spoke with SoloAzar about the company, which is participating for the first time with its own booth at the Italian show, introducing an innovative product.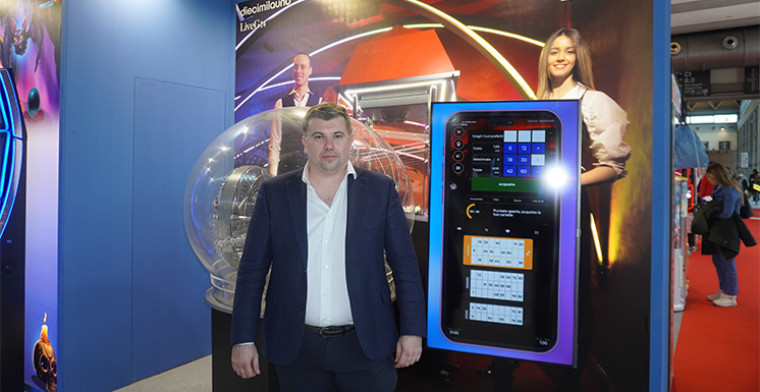 Can you give us a brief overview of the company?
Diecimilauno is a company that has been around for many years, probably since the beginning of bingo in Italy. The Diecimilauno company is part of a group that has 32 traditional bingo halls in Italy. In addition, we have started a concession for online gambling, where we have a platform with different types of gambling: www.zonagioco.it. We have presented land bingo but online; We have created a new game called Bingo Live, which is unique in its genre, unique in the world, where people can play through the computer as if they were in a bingo room. It is totally live, with real people, with cameras pointing to the extractor chamber, where the extraction takes place in real time.
Is it the first time you come to this show?
We always attend the Rimini event but in the visitor mode, but it is the first time that we have participated with a stand presenting an innovative product, which shows the evolution from simply being a game distribution company to being a game producer.
How do you see the show? What expectations do you have about this show?
The event is working very well, but well, the interest in the product, which is attractive for people, is something innovative. People come by, stop and look at it, and if this continues, it promises to be a very busy show.
This online bingo product, I imagine it is not only for Italy, but also for the whole world.
Yes, that's right; it is for the whole world. The company is present in Africa, and markets are opening up in South America. As for Europe, we are beginning to make the connections to homologate the product in the Spanish market, which is quite restrictive in terms of homologation, and also in the United Kingdom.
Which is the next event in which you are going to participate?
At the show in Brazil, then in Barcelona, and later in Amsterdam.
Categories: Events
Tags: ENADA2023, Diecimilauno, Live Bingo,
Region: Europa
Sign Up
To subscribe to our newsletter, please fill in your details
Receive all the latest content in your email several times a month.