Events
"Being present with our advanced solutions at GAT is an honour", Manuel Wladdimiro, Win Systems
2 minutos de lectura
(Bogotá, SoloAzar Exclusive).- Manuel Wladdimiro, Sales Director Central America & Caribe Gaming at Win Systems granted an interview to SoloAzar within the recent GAT Expo 2023, which took place on September 8, at the Sheraton Bogotá Hotel, in Bogotá, Colombia. He talked about the main novelties showcased at the event, like the iconic Gold Club roulette and the latest Series 25, and gave his view on the evolution of the legal Gaming in Colombia, among other topic issues.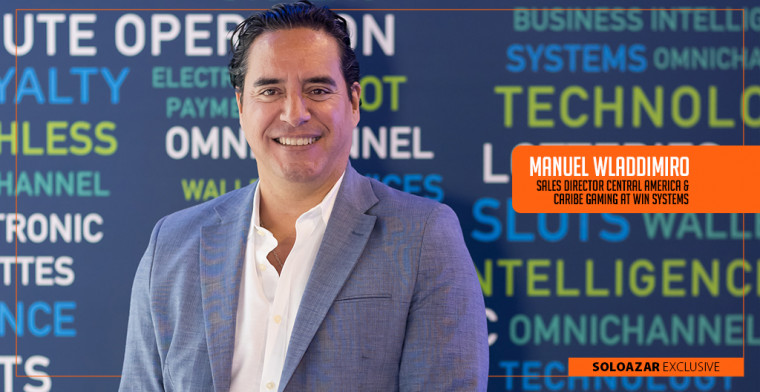 What gaming novelties did you present at the GAT Colombia Expo?
At the recent GAT, we successfully showcased our iconic Gold Club electronic roulette wheels and their latest release, the Series 25. Operators and players alike have shown great interest in the Series 25 for its unique red and black design, attractive lighting and updated software that included a new game cloth design as well as the Lucky Number jackpot.
In addition, we focused on further enhancing our slots offering with the impressive ST3 and Rhapsody cabinets along with our recent multi-game launch, Adventure.
The latter stands out for offering attractive graphics and mechanics, while presenting different levels of volatility. We have an extensive library of games specially designed for the Colombian market that will undoubtedly captivate players of all profiles and preferences.
Which market did you focus on during this GAT show? Only Colombia or LATAM?
In this latest edition of GAT we focused on reinforcing our slots offering and our positioning with our iconic Gold Club roulettes in the region.
There is no doubt that Colombia has been a strategically important market for Win Systems for years. Together with our exclusive distributor Golden Gaming, we have achieved a leading position in this market, and there is no doubt that participating for years in one of the sector's leading trade fairs such as GAT helps us to make a difference.
What does it mean for you to be part of the GAT Expo, for one more year?
As we always say, participating in trade fairs is crucial for us and being present with our advanced solutions at GAT is an honour.
Attending this latest edition was a great opportunity to connect even more with customers and colleagues, strengthen ties and listen to their needs first hand. This allows us to continue to develop specific solutions for the Colombian market and contribute to the continued growth of the industry in the region. We know that in order to continue competing at the highest level, you have to be present at strategic trade fairs and GAT is a clear example of this.
What do you think about the evolution of the legal Gaming in Colombia?
We believe that legal developments in the Colombian market are positive and promising. The country has demonstrated a clear commitment to properly regulate and legalise this industry, and entrepreneurs are taking a high level of responsibility with this legality. In addition, we find it interesting to highlight the promotion of corporate social responsibility policies, demonstrating the maturity of the industry in Colombia and its commitment to the wellbeing of society.
We are all aware that there are still some areas for improvement, such as delays in the renewal of contracts, or changes in the replacement of machinery, but we are confident that new measures will be implemented to further strengthen the growth of the sector in the Colombian market.
Categoría:Events
Tags: Win Systems, GAT EXPO Gaming & Technology,
País: Colombia
Región: South America
Event
(Sofia).- At an official ceremony hosted by the Black&White Club, part of the Palms Royale Sofia complex, the annual BEGE awards for achievements in the gaming and entertainment industry were given in the presence of senior management officials from the leading companies in the industry.
Thursday 23 Nov 2023 / 12:00
(Sofia).- It is with great pleasure to announce that CT Gaming has been honored with the prestigious 'Casino Management System of the Year' award at the BEGE Awards!
Thursday 23 Nov 2023 / 12:00
(Sofia).- CT Interactive, a leading provider of online gaming solutions, has won three prestigious awards. The company's game "Treasure Chase" was honored with the title of "Online Game of the Year," while CT Interactive itself was recognized as the "Online Provider of the Year" at the BEGE 2023 ceremony. The CEO of the company – Lachezar Petrov won the executive of the year award.
Wednesday 22 Nov 2023 / 12:00
SUSCRIBIRSE
Para suscribirse a nuestro newsletter, complete sus datos
Reciba todo el contenido más reciente en su correo electrónico varias veces al mes.
PODCAST
MÁS CONTENIDO RELACIONADO