Events
Betradar brought its Managed Trading Services to PGS 2019
2 minutos de lectura
(Lima, SoloAzar Exclusive).- After the lastest edition of Peru Gaming Show, SoloAzar spoke exclusively with Mateo Lenoble, Betradar Sales Director for South America. "Peru is an interesting market which, like many regions in LatAm, is full of opportunities should it become fully regulated," he said.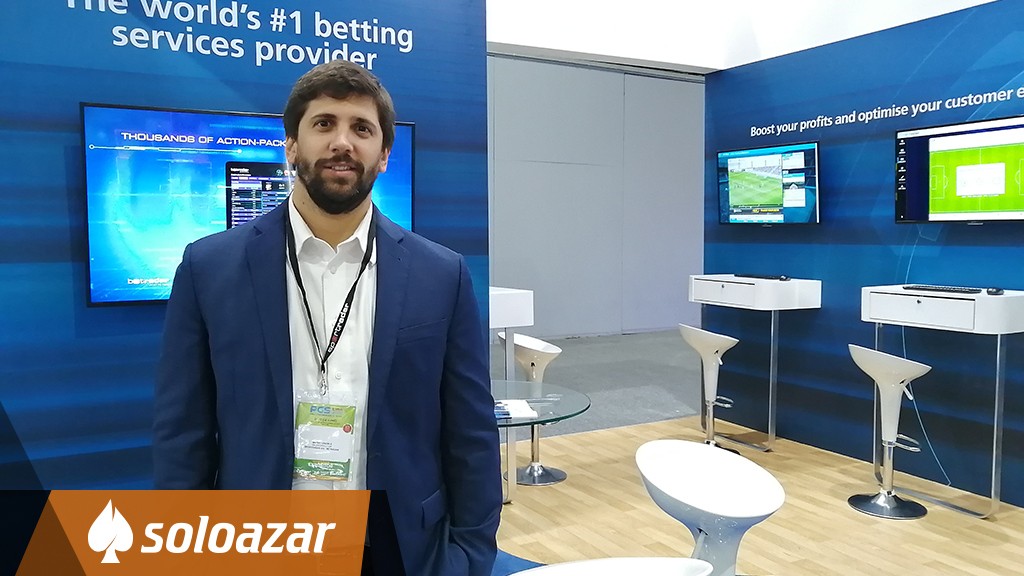 What were the highlights you showcased at PGS?
The main product we showcased at the Peru Gaming Show was our signature all-in-one solution, Managed Trading Services (MTS), simply because it is having a lot of take-up in regulated betting areas of LatAm. This is because it is well-suited for operators in an emerging market. It includes our market-leading odds, Betting Stimulation tools, including streaming and Virtual Sports, as well as our expert trading and risk management services that can be integrated at whatever level and for whatever sport required. We also spoke to attendees about our ad:s marketing and sponsorship solution, which has been designed to help operators target, gain and retain customers. This is a great way for operators in LatAm to gain traction in local markets.
What comments did you receive from visitors?
Peru is an interesting market which, like many regions in LatAm, is full of opportunities should it become fully regulated. A lot of the Peruvian population is football-obsessed so there is potential for operators in this regard too. As such, we received a positive response from visitors at the show because of the tools we have to leverage these situations. Our products are also flexible and can all be tailored to suit a wide range of needs across markets and channels.
How did you see the fair this year and why did you decided to bring your products to PGS?
The Peru Gaming Show is a good show and a crucial one for Sportradar to have a presence at given Peru's potential to open as a regulated market. Because of this, Peru is one of the most important markets within Latin America at the moment. As such we really want to ensure operators in the region are aware of the products and services we offer, simply because our 360-degree betting portfolio has everything they need to establish and run a successful sportsbook.
Does the imminent regulation of online gaming and sportsbooks in Peru have influence in your activity?
We have almost two decades of experience within the sports betting industry and, as the world-leading provider of sports betting and data services, we are well-prepared to offer our expertise and tools if and when a country does open to regulated betting. Our aim is to support operators, the sports and country as a whole reap the benefits that a regulated betting market can offer, whilst also helping to mitigate any risks involved.
How do you see the industry in the country and what do you think are the advantages of working in a market like Peru?
Again, the industry in Peru is full of potential, especially when the country's national football team is playing like they are now in the Copa America. Operators can leverage the increased interest this generates with even more ways for fans to engage with the sport, through betting, stats, gamification and entertainment, which, again are all part of our betting offering. But they need to start preparing now so they are ready. Should Peru enable regulated betting, together with the likes of Colombia and other countries in LatAm that have already done so, it will further expand the industry and its potential. It will also be more beneficial for the region as the more regulated betting is introduced, with its licenses and other methods of monitoring the market, the more chance there is to stamp out black market activity.
Categoría:Events
Tags: BETRADAR, software de apuestas, Peru Gaming Show, PGS, apuestas deportivas, apuestas en línea, apuestas en vivo, Apuestas online,
País: Peru
Event
(Sofia).- EGT Digital's iGaming platform X-Nave was acknowledged as "Online platform of the year" from the 2023 edition of the BEGE Awards. The competition traditionally accompanies the BEGE Expo show and the EEGS conference and this year gave awards in a total of 22 categories, covering both land-based and digital aspects of the gaming industry.
Friday 01 Dec 2023 / 12:00
(Sofia).- EGT reaped great success at this year's edition of the BEGE Awards, taking 3 prizes from the competition. At a ceremony held at Club Black & White at Grand Hotel Millennium in Sofia on 21 November, the Bulgarian manufacturer of gaming equipment received awards in the "Supplier of the Year" and "Jackpot Concept of the Year" categories and the company's CEO Vladimir Dokov was acknowledged as "Executive of the year".
Thursday 30 Nov 2023 / 12:00
(Sofia). - It was a great conclusion to the exhibition year 2023: The Balkan Entertainment & Gaming Expo (BEGE) in Sofia, one of the most important B2B gaming trade fairs in Eastern Europe, once again proved to be an extremely successful and well-attended event.
Wednesday 29 Nov 2023 / 12:00
SUSCRIBIRSE
Para suscribirse a nuestro newsletter, complete sus datos
Reciba todo el contenido más reciente en su correo electrónico varias veces al mes.
PODCAST
MÁS CONTENIDO RELACIONADO