Events
Dayco Gaming positive presence at SAGSE Buenos Aires
2 minutos de lectura
(Buenos Aires, SoloAzar Exclusive) - Daniel Cuacci, Manager at Dayco Gaming was present at SAGSE Buenos Aires and SoloAzar asked him a few questions about his presence in this edition of two intense days, on April 19th and 20th, at the Hilton Hotel, Buenos Aires.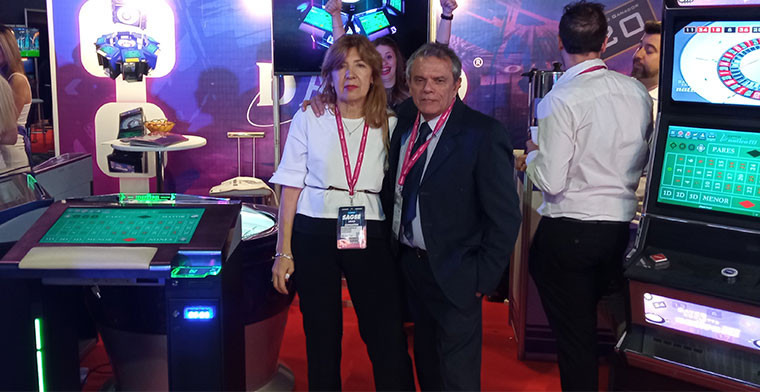 Dayco Gaming is a company with more than 20 years of experience in the market. It is formed by professionals in electronics and computer science specialised in products for entertainment such as Casino Management Systems (On line), Credit Loading and Unloading Systems by Magnetic Cards, Fidelity Systems, electromechanical and electronic Roulettes, different models of slot machines, Accumulated Pit Systems, etc.
They have their own laboratories and offer integral solutions that range from design to manufacturing and testing of the finished product ready to be marketed.
Dayco Gaming was present at the 2023 edition of SAGSE Buenos Aires, held on April 20th and 21st at the Hilton Buenos Aires Hotel.
Daniel Cuacci, manager of Dayco Gaming agreed to answer some questions to SoloAzar regarding his experience at the show. Cuacci highlighted the great public interest in their products, both from current and potential customers. He also commented that this edition was very well attended and very well organised.
In relation to the growth of regulations in Argentina and Latin markets, he clarifies the following: "I'm not really into that issue, I think they are good if they serve for the activity to develop in an orderly way".
Finally, Daniel comments on the company's short and long term projects: "We continue to make improvements to our products and we are developing new models of machines and a new system for Casinos with new technologies, online gaming platforms, and with that we cover the annual projects."
Categoría:Events
Tags: SAGSE, Roulette, Dayco Gaming,
País: Argentina
Región: South America
Event
(Sofia).- At an official ceremony hosted by the Black&White Club, part of the Palms Royale Sofia complex, the annual BEGE awards for achievements in the gaming and entertainment industry were given in the presence of senior management officials from the leading companies in the industry.
Thursday 23 Nov 2023 / 12:00
(Sofia).- It is with great pleasure to announce that CT Gaming has been honored with the prestigious 'Casino Management System of the Year' award at the BEGE Awards!
Thursday 23 Nov 2023 / 12:00
(Sofia).- CT Interactive, a leading provider of online gaming solutions, has won three prestigious awards. The company's game "Treasure Chase" was honored with the title of "Online Game of the Year," while CT Interactive itself was recognized as the "Online Provider of the Year" at the BEGE 2023 ceremony. The CEO of the company – Lachezar Petrov won the executive of the year award.
Wednesday 22 Nov 2023 / 12:00
SUSCRIBIRSE
Para suscribirse a nuestro newsletter, complete sus datos
Reciba todo el contenido más reciente en su correo electrónico varias veces al mes.
PODCAST
MÁS CONTENIDO RELACIONADO