Events
Edict exceed all their expectations at PGS 2019
2 minutos de lectura
(Lima, SoloAzar Exclusive) .- Klaus Hönninger, Sales Manager for Europe and South America of Edict egaming GmbH, spoke exclusively with SoloAzar about his participation in the lastest edition of the Peru Gaming Show. "PGS has managed to bring together companies from all over Latin America, which helps us to connect with people from all the countries of the region," he said.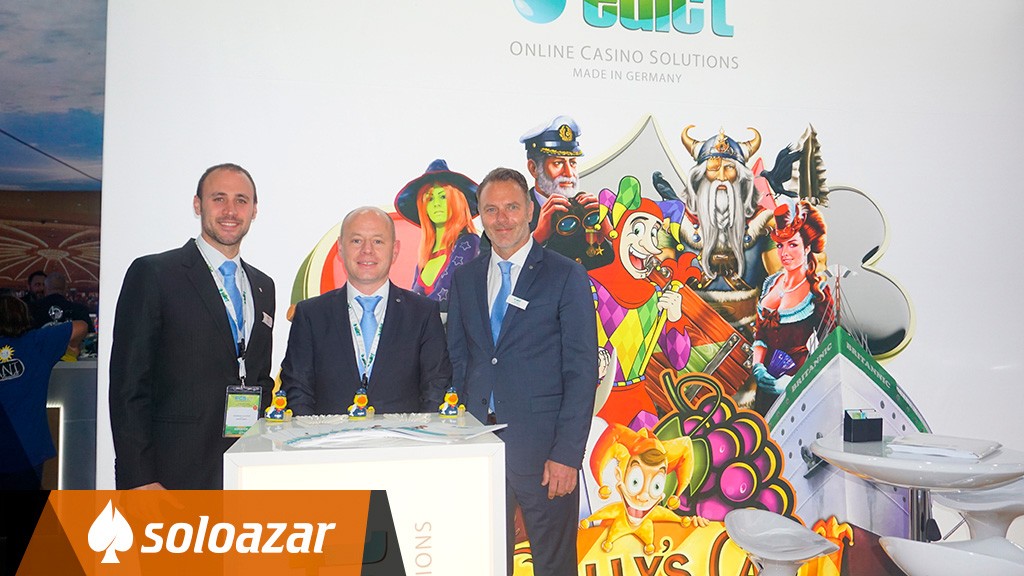 What are the highlights you are showcasing at PGS? Are there particular products for this market?
The Latin American market in general, has enormous potential for us and the entire online gaming industry. That is why on this occasion we have presented our Edict Game Solution, which is based on offering Merkur games to anyone with an online platform. With this, we help operators give a breath of fresh air to their gaming platforms with exciting content to boost the different markets and increase their revenues.
We have also had the opportunity to chat with several companies who were interested in purchasing our Edict Turnkey Solution. This product is a unique, ready-to-use package that contains all the modules and services needed for a fast and successful launch of a new online casino.
What comments did you receive from visitors?
The feedback has been very positive, both from customers as well as from suppliers. Merkur games are known worldwide and our potential customers are eager to start offering them on their platforms.
How do you see the fair this year and why do you decide to bring your products to PGS?
Peru is a country that is in the process of regulating online gambling, which makes it very interesting in the short/medium term. In addition, PGS has managed to bring together companies from all over Latin America which helps us connect with people from all countries in the region. That's why we decided to come back to Lima this year.
Does the imminent regulation of online gaming and sportsbooks in Peru have influence in your activity?
Definitely yes, we are a company that is very strict when offering its games. We always keep track of changes in the regulations worldwide. Once Peru regulates the online gaming market, we will have the opportunity to offer our games to local operators that comply with this regulation, which is very exciting for us.
How do you see the industry in the country and what do you think are the advantages of working in a market like Peru?
Peru is an economically stable country, with strict regulation of gambling (Landbased Casinos). According to the representative of the Ministry of Culture, Peru is doing an excellent job of controlling landbased casinos. The state is putting considerable effort into developing a regulation, specifically, for the online games that we hope can be realized in the short or medium term. The advantages of working with markets like Peru, is that they are markets, relatively, virgin in the sector, which generates incredible potential for all game or online platforms providers.
Categoría:Events
Tags: Edict egaming GmbH, Peru Gaming Show, online casino, online gaming, online platform, Gauselmann, PGS,
País: Peru
Event
(Sofia, SoloAzar Exclusive).- Milos Pejic, NOVOMATIC Regional Manager SEE spoke with SoloAzar about the performance of the firm at the recent BEGE event, held in Sofia, Bulgaria. He also spoke about the highlights of the event in Sofia, and also the importance of the Balkans region.
Thursday 07 Dec 2023 / 12:00
(Sofia).- CT Gaming presented an exciting range of products at its booth at the BEGE event, that was held on November 22 to 23 in Sofia, Bulgaria. The firm focused on the Casino Management System, the NEXT slot cabinet, and the latest multigames Diamond King 3, Tower Link, and Mermaid's Quest.
Wednesday 06 Dec 2023 / 12:00
(Sofia, Exclusive SoloAzar).-SoloAzar interviewed Milena Tsankarska, Head of Business Development EMEA and Silvia Hristova, Head of CRM both from CT Interactive. They talked about the presence of the firm during the BEGE 2023 expo, that was held on November 22nd and 23rd at the Inter Expo Center in Sofia, Bulgaria. They both commented on the new gaming titles showcased, the highlights of the event, their vision of the bulgarian market and the strategy that the company faces for the upcoming future: "In 2024, Eastern Europe and Bulgaria are expected to continue their growth in the gambling industry".
Monday 04 Dec 2023 / 12:00
SUSCRIBIRSE
Para suscribirse a nuestro newsletter, complete sus datos
Reciba todo el contenido más reciente en su correo electrónico varias veces al mes.
PODCAST
MÁS CONTENIDO RELACIONADO