Events
Evoplay made splendid performance at SBC Summit Latinoamerica
2 minutos de lectura
(Miami, SoloAzar Exclusive).- Vladimir Malakchi, CCO at Evoplay granted an interview to SoloAzar to talk about the future plans of the firm and their performance at the recent SBC Summit Latinoamerica event.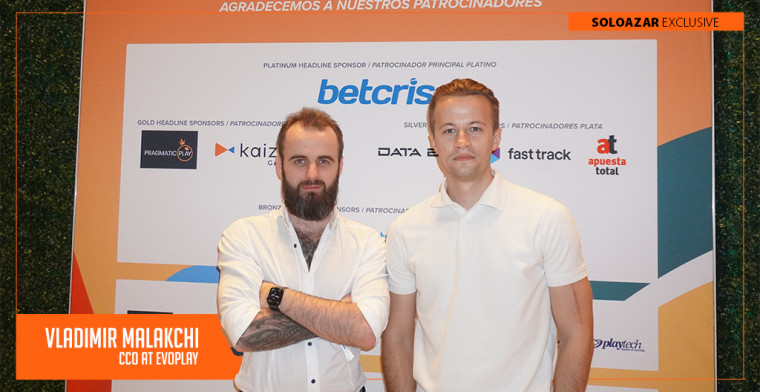 What were the experiences and activities that most impacted you at the SBC Latam?
First and foremost, I emphasise the light-hearted and welcoming atmosphere that characterises SBC Summit Latinoamérica, making the event exceptional and refreshingly optimistic. It offers a splendid fusion of networking, entertainment, great and open-minded people, and luxurious surroundings down to the tiniest details, providing an easy-going vibe. The organisation of every aspect of the event deserves significant recognition and gratitude towards the hosts.
I cannot overlook the thrilling race organised for the event's participants at the Miami Dolphins football club stadium. Unfortunately, due to work meetings, I couldn't personally attend. Nevertheless, my industry peers shared such vivid accounts of their experiences, from running with the club's flag to the exhilarating rush of adrenaline, that left me anticipating a similarly exceptional experience on my next visit.
Could you comment on the challenges, difficulties, and advantages of the Latam market for your company?
The Latam market holds immense potential, with its challenges being well worth our resource investment. Brazil's population, exceeding 200 million, underlines the market's vast scope and profitability for iGaming industry players. To capitalise on these opportunities, we must act consistently and decisively.
As a non-local enterprise, bridging substantial disparities in mindset, preferences, and cultural norms becomes our foremost and pivotal challenge. To surmount this, we're actively conducting comprehensive market analysis, testing, partner feedback analysis, and promoting engaging instant games that have already resonated with the local audience. Titles like Penalty Shoot-out, the latest Penalty Shoot-out: Street version, Scratch Match, and more take the lead in our endeavours. It greatly energises me and our entire team, igniting our passion to achieve the desired results.
Upcoming events you will be attending?
Anticipating the upcoming SiGMA Malta event, where I'll be from November 13th to 16th, I'm brimming with drive. We have something exciting for our partners as we unveil the curtain on our innovative flagship game, slated for an early next-year launch.
And another noteworthy event this year is the iGaming Idol 2023 awards. I'll attend alongside my colleague Marharyta Yerina, Evoplay's Head of Finance, who has earned a well-deserved nomination for Finance Manager Idol 2023. I take immense pride in Margarita's accomplishments. I am well-acquainted with her unwavering dedication to her career field and her virtuoso financial management, making a pivotal contribution to Evoplay's growth. I have my fingers firmly crossed for her to win!
Anything else you would like to add?
This year has been a testament to our unwavering commitment as we lay the groundwork for a potentially transformative 2024 in the iGaming industry. Our confidence for this transformation rests on the imminent launch of a groundbreaking flagship game, unlike anything we've seen before, to deliver an unforgettable standard of unmatched quality entertainment while engaging diverse audiences and player types.
Simultaneously, we're focusing on our new project to create high-quality and exciting slots with diverse mechanics. The online slots realm boasts over 85 million active users, and our new brand will be poised to meet this growing demand.
Categoría:Events
Tags: online gaming, Casino Online, Evoplay Entertainment, SBC Summit Latinoamérica,
País: United States
Región: North America
Event
(Sofia).- At an official ceremony hosted by the Black&White Club, part of the Palms Royale Sofia complex, the annual BEGE awards for achievements in the gaming and entertainment industry were given in the presence of senior management officials from the leading companies in the industry.
Thursday 23 Nov 2023 / 12:00
(Sofia).- It is with great pleasure to announce that CT Gaming has been honored with the prestigious 'Casino Management System of the Year' award at the BEGE Awards!
Thursday 23 Nov 2023 / 12:00
(Sofia).- CT Interactive, a leading provider of online gaming solutions, has won three prestigious awards. The company's game "Treasure Chase" was honored with the title of "Online Game of the Year," while CT Interactive itself was recognized as the "Online Provider of the Year" at the BEGE 2023 ceremony. The CEO of the company – Lachezar Petrov won the executive of the year award.
Wednesday 22 Nov 2023 / 12:00
SUSCRIBIRSE
Para suscribirse a nuestro newsletter, complete sus datos
Reciba todo el contenido más reciente en su correo electrónico varias veces al mes.
PODCAST
MÁS CONTENIDO RELACIONADO