Events
"It was fantastic to be in Vegas for G2E", Lucie Kadlecová, Aviatrix
2 minutos de lectura
(Las Vegas, SoloAzar Exclusive).- Lucie Kadlecová, CMO at Aviatrix, granted an interview to SoloAzar, in which she talked about the fantastic performance and positive experience of the firm that was for the first time at the Global Gaming Expo (G2E). Lucie also commented on their online casino games , highlighting their unique NFT-based engagement mechanism and the great year for the company and future strategic goals for 2024.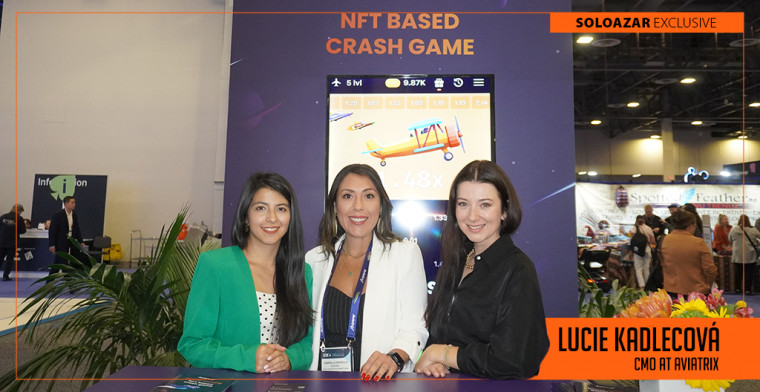 How was your experience at G2E this year?
It was fantastic to be in Vegas for G2E. It was Aviatrix's first time at the show, and it was an extremely positive experience. We are already working on licences to bring the game to regulated US states, so we were able to have several positive conversations as we look forward to a bright future in the country. Obviously there is a huge amount to learn, and chatting directly with stakeholders in the US is extremely valuable. G2E is quite different to many of the shows we attend in Europe, not least because of the larger land-based element, but we continue to keep an open mind, listen to those with experience in the market, and work hard towards our strategic goals.
Regarding the products presented at G2E, what is the message for potential new partners?
As anyone who has been watching the online casino games market recently will have seen, crash games have absolutely exploded in popularity. These titles are growing at a far faster rate than the rest of the market, they are attracting a new profile of users, and they are engaging those users on a far deeper level. In short, you need these games front and center of your offering.
What innovations have you been working on recently?
We're proud that Aviatrix is leading the field when it comes to crash games. We describe ourselves as a next-generation crash title, because we are pushing the genre forward and in entirely new directions.
At the heart of all of this is our unique NFT-based engagement mechanism. Players can build and customise their own planes, with which they play the game. And even better, these planes will soon be tradeable as NFTs on our very own marketplace. This is a completely new concept in online casino, and it has been massively successful already with more than 500,000 NFT planes created by our users.
Elsewhere, we've recently launched a brand new Free Bet Bonus feature, that can be integrated by our partner operators with no technical changes from the client side. It's a really powerful way of attracting new players as well as boosting retention, and we've given our partners full control so they can customize the bonus as they wish.
After the success of the firm's presentation at G2E, could you give a summary of the Company's achievements this year?
This is the first year we've been live with Aviatrix, and it has been a whirlwind. We knew the game was going to be a hit, but even we've been a little surprised at the speed at which players have taken to it.
The highlights have included attending numerous trade shows from Manila to São Paulo to Barcelona to Las Vegas, where we've been able to meet our fantastic partners. We've also received several certifications and licences, most recently one to enter the market of Georgia. More will follow shortly. And we've won quite a few awards on top of all of this, noticeably the 'Rising Star in Casino Innovation' category at the SBC Awards.
In short, it's been an incredible year, and we're still hard at work with more updates for the game so we can hit the ground running in 2024.
Categoría:Events
Tags: G2E, online gaming, Casino Online, AVIATRIX,
País: United States
Región: North America
Event
(Sofia).- At an official ceremony hosted by the Black&White Club, part of the Palms Royale Sofia complex, the annual BEGE awards for achievements in the gaming and entertainment industry were given in the presence of senior management officials from the leading companies in the industry.
Thursday 23 Nov 2023 / 12:00
(Sofia).- It is with great pleasure to announce that CT Gaming has been honored with the prestigious 'Casino Management System of the Year' award at the BEGE Awards!
Thursday 23 Nov 2023 / 12:00
(Sofia).- CT Interactive, a leading provider of online gaming solutions, has won three prestigious awards. The company's game "Treasure Chase" was honored with the title of "Online Game of the Year," while CT Interactive itself was recognized as the "Online Provider of the Year" at the BEGE 2023 ceremony. The CEO of the company – Lachezar Petrov won the executive of the year award.
Wednesday 22 Nov 2023 / 12:00
SUSCRIBIRSE
Para suscribirse a nuestro newsletter, complete sus datos
Reciba todo el contenido más reciente en su correo electrónico varias veces al mes.
PODCAST
MÁS CONTENIDO RELACIONADO