Events
SBC Summit Tbilisi to explore dynamics in Black Sea, Central Asia, and Balkans
Friday 18 de August 2023 / 12:00
2 minutos de lectura
(Tbilisi).- SBC Summit Tbilisi is poised to present an all-encompassing series of conference sessions that will deeply delve into the boundless opportunities in Georgia and its neighbouring regions, spanning the Black Sea Region, Central Asia, and the Balkans.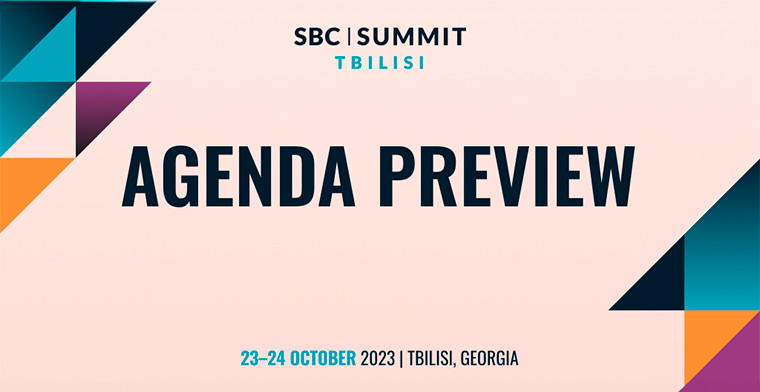 As the foremost iGaming and sports betting conference for Georgia and its adjoining areas, SBC Summit Tbilisi is jointly organised by SBC and SMH, a Georgia-based iGaming and sports management organisation. The event is scheduled to occur on October 23-24 at the Sheraton Grand Tbilisi Metechi Palace.
This powerhouse event aspires to convene industry leaders, visionaries, and trailblazers to collectively explore the remarkable expansion of the sector in the region and its consequential influence on the global stage.
The conference will showcase two tracks: Market Digest and Innovation. The first track will centre around specific markets such as Georgia, Eastern Europe, and Central Asia, while the innovation track will delve into advancements that enhance customer loyalty, elevate performance marketing outcomes, harness the potential of AI, and explore the revolutionary capabilities of Web3.
Session highlights:
Georgia - Eastern European Hub of the World's Leading iGaming Organisations: The panel will delve into the factors that have made Georgia a thriving hub for both operators and providers, including industry expertise, cultural understanding, efficient regulations, and human resources.
Eastern Europe and Central Asia - How the Region is Evolving: Regional specialists will unravel the dynamic developments and shed light on the opportunities present in key markets such as Romania, Ukraine, Georgia, and Central Asia.
Performance Marketing Unlocked: Marketing experts will dissect the world of performance-driven marketing and its role in driving and converting traffic. Attendees will gain insights into the latest trends, effective models, and the synergy between affiliates and operators.
AI Superpowers: Revolutionising iGaming Operations: The panel will explore how AI technologies are transforming iGaming operations, simplifying processes, and improving efficiency. Attendees will learn about the opportunities and benefits of integrating AI into their businesses.
Balancing Player Protection and Growth: Regulators and operators will share insights on navigating regulatory challenges and ensuring player protection in the midst of global inflation.
Why Flexible Payment Solutions Are Taking the Industry by Storm: This panel will delve into the world of flexible payment solutions, discussing their impact on user conversion, retention, and business growth.
eSports Betting: A Game-Changer for the Region: Panellists will explore the rising significance of eSports in betting and its potential to reshape the industry landscape.
Rasmus Sojmark, CEO & Founder of SBC said: "As with all SBC events, educational opportunities will dominate. The markets we're examining at SBC Summit Tbilisi are all incredibly interesting and promising. Whether it's Georgia and its booming industry, Romania, or the developments in Kazakhstan and Uzbekistan, these are all unique and worth exploring. We are glad to offer a comprehensive platform to meet with the decision-makers and hear how they're taking the industry by storm."
The impressive lineup of speakers will include over 40 representatives from local operators, alongside global stakeholders with a local presence, marketing agencies, traffic acquisition experts, suppliers providing their services in the region and associations like the Georgian Gambling Association (GGA) and the Ukrainian Gambling Council (UGC).
Notable names sharing their comprehensive understanding of the region's evolving trends, regulatory shifts, and emerging prospects, include names such as Maia Kopinadze (CEO, Europebet), Tereza Tokmajyan (CMO, TotoGaming), Nika Gudushauri (CCO, Betlive), Tamar Badashvili (Deputy CEO, Setanta Sports), George Mamulaishvili (Head of Administration, GGA), Vlastimit Vukadinovic (Marketing Director, Superbet Romania), Revaz Chikvaidze (Head of Crypto, VBet), Viktoriia Zakrevskaia (Deputy Chairman, UGC), Dan Iliovici (VP, Rombet), Marcin Jablonski (CCO, LVBET), David Gagadze (CSO, Adjarabet) and more.
Follow the official event page on LinkedIn to stay up-to-date.
For exhibition and sponsorship opportunities please contact sales@sbcgaming.com or Baki Lortkipanidze at baki@smh.global.
Categoría:Events
Tags: SBC,
País: Georgia
Región: Asia
Event
(Sofia).- At an official ceremony hosted by the Black&White Club, part of the Palms Royale Sofia complex, the annual BEGE awards for achievements in the gaming and entertainment industry were given in the presence of senior management officials from the leading companies in the industry.
Thursday 23 Nov 2023 / 12:00
(Sofia).- It is with great pleasure to announce that CT Gaming has been honored with the prestigious 'Casino Management System of the Year' award at the BEGE Awards!
Thursday 23 Nov 2023 / 12:00
(Sofia).- CT Interactive, a leading provider of online gaming solutions, has won three prestigious awards. The company's game "Treasure Chase" was honored with the title of "Online Game of the Year," while CT Interactive itself was recognized as the "Online Provider of the Year" at the BEGE 2023 ceremony. The CEO of the company – Lachezar Petrov won the executive of the year award.
Wednesday 22 Nov 2023 / 12:00
SUSCRIBIRSE
Para suscribirse a nuestro newsletter, complete sus datos
Reciba todo el contenido más reciente en su correo electrónico varias veces al mes.
PODCAST
MÁS CONTENIDO RELACIONADO