Events
The latest EZ MODULO™ models of Casino Technology with diverse content highlighted at PGS 2019
2 minutos de lectura
(Sofia).- The latest models of the award-winning EZ MODULO™ series of slot machines will be premiered by Casino Technology for the Latin American region at Peru Gaming Show 2019 in June.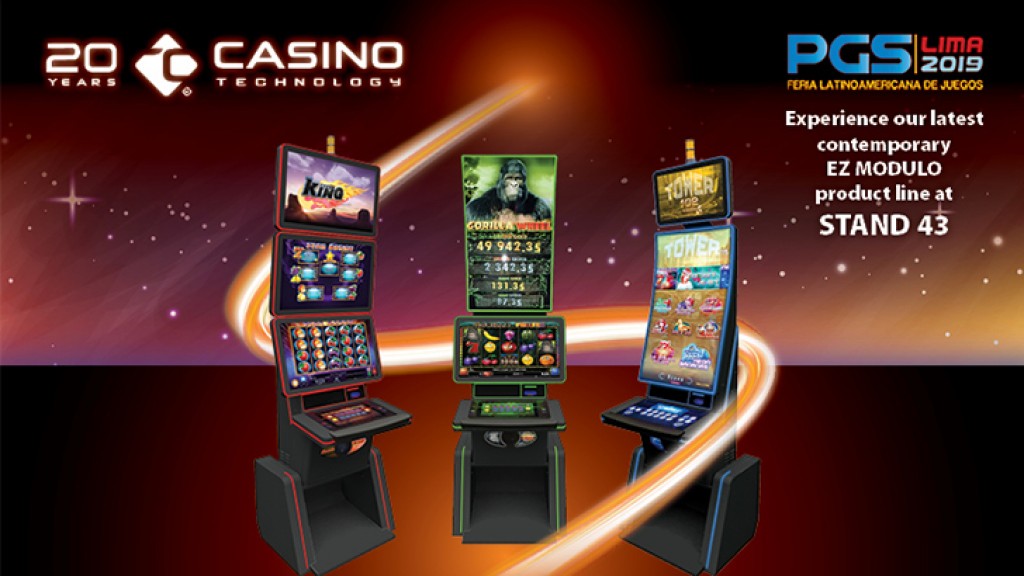 Georgi Koprinarov, Director Business Development Latin America at Casino Technology commented: "Our EZ MODULO™ series of slot machines enable operators with flexible and diverse decisions for their floors, for excellent performance and results. With 20 years of history behind, Casino Technology delivers exciting experience and an enjoyable adventure for all its customers` locations".
The company`s new offerings EZ MODULO™ with three 32" HD monitors, EZ MODULO Titan™ and EZ MODULO Tower™ comprise of leading-edge technology and fascinating content for truly exciting experience. "It is a reflection of our dedication to offer the most comprehensive products that meet customers` expectation", Mr Koprinarov explained.
he outstanding new EZ MODULO Tower™ stands out with unique 43-inch J-curved monitor and full touchscreen capabilities, crystal clear sound and edge lighting as well as a 27" topper. It is offered with TOWER™ 102 FRUITS and TOWER™ 104 multi games, consisting of 40 successful and loved by players games, guaranteeing maximum machine occupancy.
The innovative and eye catching EZ MODULO Titan™ grabs the player's attention with 32" HD main monitor and an impressive 43" UHD J-curved monitor for displaying the jackpot accumulations and the winning celebrations. EZ MODULO Titan™ is offered with GORILLA WHEEL™ - a multi level progressive game suite with 12 titles.
Featuring SPEED KING™ multi game with 60 titles, now enriched with different skins that include Asian and Fruits themed titles for offering even better diversity, the EZ MODULO™ with three 32" HD monitors is designed precisely for providing an exceptional gaming experience. The new slot machine offers high quality sound and great effects.
"The EZ MODULO™ series of slot machines feature a reliable construction. The separately placed monitors, not incorporated in the main body of the cabinet, facilitates the maintenance. Its advanced ergonomic characteristics and the low footprint, makes the machines an ideal choice for any locations", explained Georgi Koprinarov.
Categoría:Events
Tags: Casino Technology , slot, Peru Gaming Show, PSG,
País: Bulgaria
Event
(Sofia, SoloAzar Exclusive).- Milos Pejic, NOVOMATIC Regional Manager SEE spoke with SoloAzar about the performance of the firm at the recent BEGE event, held in Sofia, Bulgaria. He also spoke about the highlights of the event in Sofia, and also the importance of the Balkans region.
Thursday 07 Dec 2023 / 12:00
(Sofia).- CT Gaming presented an exciting range of products at its booth at the BEGE event, that was held on November 22 to 23 in Sofia, Bulgaria. The firm focused on the Casino Management System, the NEXT slot cabinet, and the latest multigames Diamond King 3, Tower Link, and Mermaid's Quest.
Wednesday 06 Dec 2023 / 12:00
(Sofia, Exclusive SoloAzar).-SoloAzar interviewed Milena Tsankarska, Head of Business Development EMEA and Silvia Hristova, Head of CRM both from CT Interactive. They talked about the presence of the firm during the BEGE 2023 expo, that was held on November 22nd and 23rd at the Inter Expo Center in Sofia, Bulgaria. They both commented on the new gaming titles showcased, the highlights of the event, their vision of the bulgarian market and the strategy that the company faces for the upcoming future: "In 2024, Eastern Europe and Bulgaria are expected to continue their growth in the gambling industry".
Monday 04 Dec 2023 / 12:00
SUSCRIBIRSE
Para suscribirse a nuestro newsletter, complete sus datos
Reciba todo el contenido más reciente en su correo electrónico varias veces al mes.
PODCAST
MÁS CONTENIDO RELACIONADO