Others
Konami Gaming's Tashina Lazcano is honored in the 2023 Patricia Becker Pay It Forward Awards
2 minutos de lectura
(Las Vegas).- Konami Gaming, Inc. formally congratulates Director of Marketing & Communications Tashina Lazcano as one of Global Gaming Women's 2023 "Patricia Becker Pay It Forward Award" recipients. She was selected for her commitment to the development and advancement of women, the Global Gaming Women organization, and the community.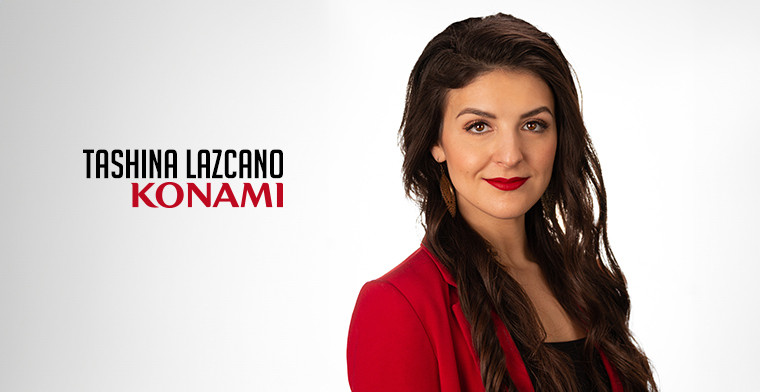 Since 2017, she has been active in Global Gaming Women (GGW), where she volunteers as Marketing Committee Member and Global Gaming Women Lean In Circle Moderator. Through her role as Director of Marketing & Communications, Lazcano is responsible for Konami Gaming's online marketing, public relations, social media, brand management, advertising, and strategic campaigns across global markets.
"Tashina Lazcano has demonstrated commitment to advancing the professional development of women in gaming, through actions ranging everywhere from one-on-one mentorship to mass communications," said Steve Sutherland, president & chief executive officer at Konami Gaming, Inc. "Her dedication to Global Gaming Women helps drive the future of the gaming space through world-class networking and education opportunities for women of all backgrounds."
"The recognition of Tashina's exceptional dedication and positive influence through Global Gaming Women's 2023 Patricia Becker 'Pay It Forward Awards' is an important moment in her professional legacy. And this is only the beginning of what I believe is an incredibly high-achieving career and strong community impact in her future," said John Eary, vice president of marketing at Konami Gaming, Inc.
Lazcano's nearly 10-year career at Konami began in 2014 as Marketing Communications Specialist, from which she's risen through the ranks to become Director of Marketing & Communications. CDC Gaming Reports recently listed her among its inaugural "Women Rising in Gaming" and Global Gaming Business magazine named Lazcano in this year's list of "Women Who Shine". Tashina Lazcano will be honored during Global Gaming Women's 13th Annual Kick Up Your Heels event at Wynn Las Vegas on Oct. 11, 2023.
For more information about Konami Gaming, Inc., please visit www.konamigaming.com.
Categoría:Others
Tags: Konami Gaming Inc.,
País: United States
Región: North America
Event
(Sofia).- At an official ceremony hosted by the Black&White Club, part of the Palms Royale Sofia complex, the annual BEGE awards for achievements in the gaming and entertainment industry were given in the presence of senior management officials from the leading companies in the industry.
Thursday 23 Nov 2023 / 12:00
(Sofia).- It is with great pleasure to announce that CT Gaming has been honored with the prestigious 'Casino Management System of the Year' award at the BEGE Awards!
Thursday 23 Nov 2023 / 12:00
(Sofia).- CT Interactive, a leading provider of online gaming solutions, has won three prestigious awards. The company's game "Treasure Chase" was honored with the title of "Online Game of the Year," while CT Interactive itself was recognized as the "Online Provider of the Year" at the BEGE 2023 ceremony. The CEO of the company – Lachezar Petrov won the executive of the year award.
Wednesday 22 Nov 2023 / 12:00
SUSCRIBIRSE
Para suscribirse a nuestro newsletter, complete sus datos
Reciba todo el contenido más reciente en su correo electrónico varias veces al mes.
PODCAST
MÁS CONTENIDO RELACIONADO