Casino
Officials investigate cause of Atlantic City Boardwalk fire that damaged facade of Resorts casino
Monday 20 de November 2023 / 12:00
2 minutos de lectura
(Atlantic City).- Investigators were trying Thursday to determine what touched off a fire on the Atlantic City Boardwalk a day earlier that burned a section of the historic walkway and damaged part of the facade of Resorts casino.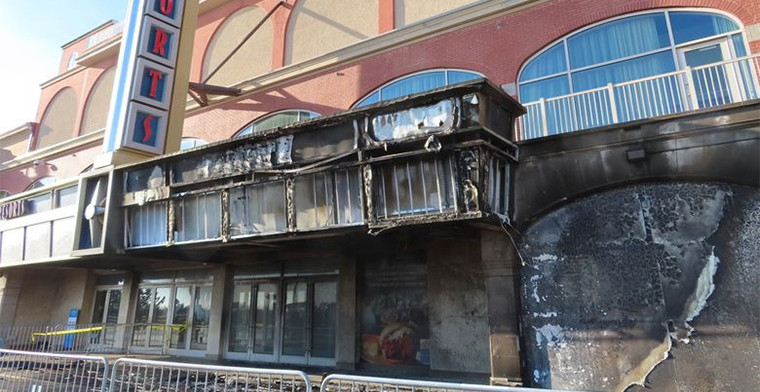 Although the fire damaged the casino's main Boardwalk entrance, Resorts remains open through a secondary entrance on the Boardwalk as well as several entrances along its side across from the parking lots.
By Thursday afternoon, the casino was allowing patrons to enter from the Boardwalk through one door that was undamaged, with the rest of the entrance blocked off by metal barriers.
The fire that broke out shortly before 4 p.m. Wednesday burned parts of the Boardwalk-facing facade of the casino, including an awning and doors to the casino.
Fire Chief Scott Evans said Thursday a cause of the fire had not yet been determined.
Investigators were looking into several possibilities, including an electrical malfunction in one of the numerous utility lines running underneath the wooden walkway, or the possibility that homeless people taking shelter under the Boardwalk accidentally started the fire.
That was believed to have been the cause of a similar fire in February that burned up to the edge of the Ocean Casino Resort but did not damage the building itself, authorities said at the time.
About 30 firefighters brought Wednesday's fire under control in 40 minutes, and no injuries were reported.
By Wayne Parry
Categoría:Casino
Tags: Sin tags
País: United States
Región: North America
Event
(Sofia).- EGT Digital's iGaming platform X-Nave was acknowledged as "Online platform of the year" from the 2023 edition of the BEGE Awards. The competition traditionally accompanies the BEGE Expo show and the EEGS conference and this year gave awards in a total of 22 categories, covering both land-based and digital aspects of the gaming industry.
Friday 01 Dec 2023 / 12:00
(Sofia).- EGT reaped great success at this year's edition of the BEGE Awards, taking 3 prizes from the competition. At a ceremony held at Club Black & White at Grand Hotel Millennium in Sofia on 21 November, the Bulgarian manufacturer of gaming equipment received awards in the "Supplier of the Year" and "Jackpot Concept of the Year" categories and the company's CEO Vladimir Dokov was acknowledged as "Executive of the year".
Thursday 30 Nov 2023 / 12:00
(Sofia). - It was a great conclusion to the exhibition year 2023: The Balkan Entertainment & Gaming Expo (BEGE) in Sofia, one of the most important B2B gaming trade fairs in Eastern Europe, once again proved to be an extremely successful and well-attended event.
Wednesday 29 Nov 2023 / 12:00
SUSCRIBIRSE
Para suscribirse a nuestro newsletter, complete sus datos
Reciba todo el contenido más reciente en su correo electrónico varias veces al mes.
PODCAST
MÁS CONTENIDO RELACIONADO