Casino
Reports claim realization of The Grand Ho Tram's full US$4.2 B investment delayed until late 2027
Monday 20 de November 2023 / 12:00
2 minutos de lectura
(Vietnam).- The full completion of Vietnam's The Grand Ho Tram casino and resort complex will not be completed until late 2027, according to a report by local media outlet VNExpress.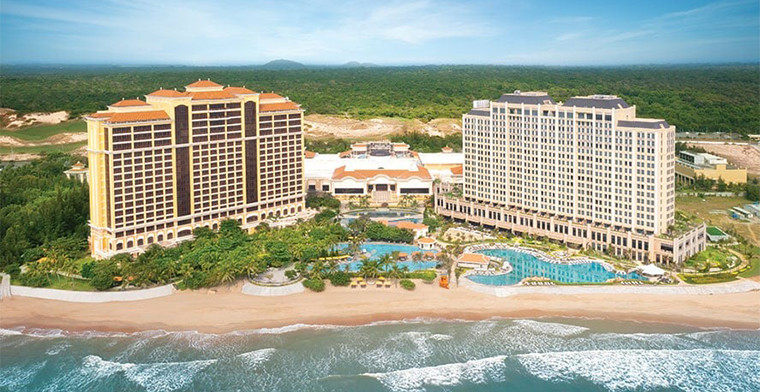 First opened in 2013 with an initial investment cost of US$500 million, The Grand Ho Tram is planned to be a US$4.2 billion integrated resort once fully complete, offering a casino, 9,000 hotel rooms, an 18-hole golf course, villas and expansive retail options.
The casino, golf course and some hotel rooms have been operational since opening although current investment still stands at US$1.3 billion, VNExpress said.
IAG understands there are currently 1,100 hotel rooms online across two hotel towers while a new apartment and villa complex launched in August.
VNExpress also reports that the project's developer, Ho Tram Project Company Ltd, has cited the impact of COVID-19, a lack of sufficient infrastructure between the area and Ho Chi Minh City, and bureaucracy for the latest delay in completion.
US hedge fund giant Harbinger Capital – which covered the resort's initial US$500 million investment – sold off its majority interest in The Grand Ho Tram's parent company, Asian Coast Development Ltd (ACDL), to US private equity firm Warburg Pincus in July 2019.
Warburg Pincus subsequently inserted a new management team in early 2020, with Walt Power – a Macau industry veteran whose previous roles include SVP of Operations for Sands China subsidiary Venetian Macau Limited – named CEO.
While the original owners are said to have invested in Ho Tram with the belief that it would one day be granted permission to welcome locals into its casino, Power told IAG recently that his team has altered its marketing strategies to focus instead on the expat market located in Ho Chi Minh City.
"[The Grand Ho Tram] is two-and-a-half hours away from Ho Tram, but it was not efficiently being exploited in the past," Power said. "It's a metropolis of 15 million people and we estimate there to be somewhere around 500,000 expats there.
"Given we're the only [casino-resort] in southern Vietnam, when you combine that monopoly with the size of the market, we're doing quite well compared with previous years.
"I would consider us to be an event-driven property. We've started offering on a regular basis professional boxing, mixed martial arts events, casino-related VIP dinners, fashion shows and beauty pageants. Our onus is to have events here to give a reason for customers to drive those two-and-a-half hours from Ho Chi Minh City, as well as our international arrivals from Korea, Taiwan and Hong Kong.
"We're certainly a weekend driven business so that's our current strategy. We are taking a leaf out of Macau and The Venetian in Las Vegas by filling the hotel up with MICE events during the week, and then weekends are for holiday makers, tourists and casino guests."
Categoría:Casino
Tags: Sin tags
País: Macao
Región: Asia
Event
(Sofia).- At an official ceremony hosted by the Black&White Club, part of the Palms Royale Sofia complex, the annual BEGE awards for achievements in the gaming and entertainment industry were given in the presence of senior management officials from the leading companies in the industry.
Thursday 23 Nov 2023 / 12:00
(Sofia).- It is with great pleasure to announce that CT Gaming has been honored with the prestigious 'Casino Management System of the Year' award at the BEGE Awards!
Thursday 23 Nov 2023 / 12:00
(Sofia).- CT Interactive, a leading provider of online gaming solutions, has won three prestigious awards. The company's game "Treasure Chase" was honored with the title of "Online Game of the Year," while CT Interactive itself was recognized as the "Online Provider of the Year" at the BEGE 2023 ceremony. The CEO of the company – Lachezar Petrov won the executive of the year award.
Wednesday 22 Nov 2023 / 12:00
SUSCRIBIRSE
Para suscribirse a nuestro newsletter, complete sus datos
Reciba todo el contenido más reciente en su correo electrónico varias veces al mes.
PODCAST
MÁS CONTENIDO RELACIONADO