Events
"SBC LATAM represented a great opportunity to meet new potential partners and learn about the latest on market, product and regulatory developments", Eddie Morales, Mondo Gaming
2 minutos de lectura
(Miami, SoloAzar Exclusive).- Eddie Morales, Commercial Director at Mondo Gaming granted an interview to SoloAzar about the company´s attendance to the SBC Summit Latam show as a visitor. He commented about the main characteristics of the firm, the advantages of the Latam Market, and the actual and future goals of the firm.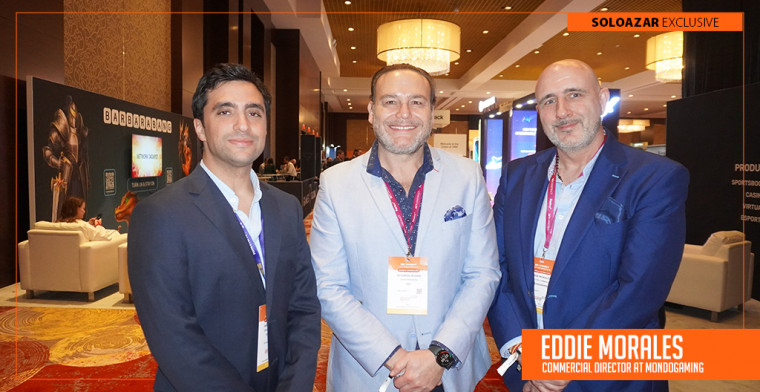 What are the main qualities of your company?
"Mondo Gaming" provides a technology platform for gambling and betting operation both in white-label and turnkey formats which is affordable, multichannel, fully scalable and in continuous evolution. The company has its own development in-house team, risk management and 24/7 support with almost a decade experience in handling partners across 4 continents. Apart from all the different amount of games offers, events traded, operations handled with players (companies always highlight these figures) "Mondo" has a unique advantage which is flexibility and adaptation to partner´s needs, I would call it a "a la carte" platform with "menu" costs and a "fast food" delivery time; three qualities different to find in one single company.
What represents for you to be present at this event?
Since I joined "Mondo Gaming" this will be the second event I´m attending, after SBC Barcelona. Having not come back to Latin America since SIGMA Brazil this show represented an opportunity to inform part of my network attending the event about the products and services offered by "Mondo Gaming", meet new potential partners and last but not least learn about the latest on market, product and regulatory developments.
In which markets do you operate?
"Mondo Gaming" has a worldwide coverage, although having more weight in European markets, the company already has presence through partners in Latam, Asia and Africa. Under these global reach condition the company is strengthening its sales structure and processes with local managers and presence at local events.
What advantages and disadvantages are in the LATAM market?
Overall, I must say that the advantages and disadvantages are created by the companies not by the markets, being a key element their adaptability and response to such markets demand. However, I should highlight the advantage of Latam as being less mature and more open in terms of competition, as well as the more controlled environments that will come with new regulated market entry opportunities; on the other side player value is the main handicap as well as lack of middle management expertise.
Upcoming events you will be present?
The next events I´ll be attending will be SIGMA Europe (Malta) and ICE London in February 2024, right after these I´ll start travelling thorough Latam, mainly Mexico, Peru and Brazil during the first half of the new year.
Anything else to add about your products/services?
Finally, I must add that 2024 will be a turning point for "Mondo" where it will acquire certification on several major regulated markets and evolve their software with major improvements.
Categoría:Events
Tags: SBC Summit Latinoamérica,
País: United States
Región: North America
Event
(Sofia).- EGT Digital's iGaming platform X-Nave was acknowledged as "Online platform of the year" from the 2023 edition of the BEGE Awards. The competition traditionally accompanies the BEGE Expo show and the EEGS conference and this year gave awards in a total of 22 categories, covering both land-based and digital aspects of the gaming industry.
Friday 01 Dec 2023 / 12:00
(Sofia).- EGT reaped great success at this year's edition of the BEGE Awards, taking 3 prizes from the competition. At a ceremony held at Club Black & White at Grand Hotel Millennium in Sofia on 21 November, the Bulgarian manufacturer of gaming equipment received awards in the "Supplier of the Year" and "Jackpot Concept of the Year" categories and the company's CEO Vladimir Dokov was acknowledged as "Executive of the year".
Thursday 30 Nov 2023 / 12:00
(Sofia). - It was a great conclusion to the exhibition year 2023: The Balkan Entertainment & Gaming Expo (BEGE) in Sofia, one of the most important B2B gaming trade fairs in Eastern Europe, once again proved to be an extremely successful and well-attended event.
Wednesday 29 Nov 2023 / 12:00
SUSCRIBIRSE
Para suscribirse a nuestro newsletter, complete sus datos
Reciba todo el contenido más reciente en su correo electrónico varias veces al mes.
PODCAST
MÁS CONTENIDO RELACIONADO