Gaming
Jubelmar continues expanding rooms with the Mega and More system from Zitro
2 minutos de lectura
(Madrid).- The Jubelmar Group, a pioneer in including Zitro's MEGA y MORE system in its salons in Castilla La Mancha, has now installed this revolutionary system in its salon in Tomelloso, Ciudad Real.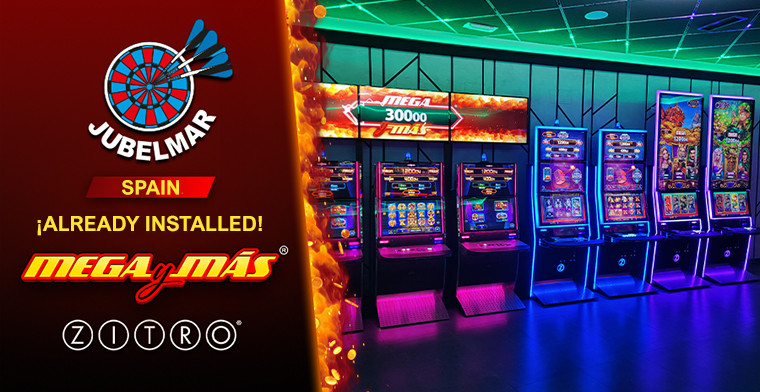 As is known, MEGA y MORE allows you to connect all the Zitro games and cabinets in the same room and distribute prizes so that if a player wins the MEGA prize, the MEGA y MORE jackpot will be distributed among the others who are playing at that moment. without the need for an additional bet, which is delighting players.
In addition, the Jubelmar salon in Tomelloso has incorporated the Zitro Mighty Hammer multigames in the Allure Glare cabinet, and Seven Chests in Altius Glare, connected to the MEGA and MORE system, which is generating a new entertainment scenario among its clients.
According to the Group's representatives, "after learning about the MEGA y MORE system, we really wanted to take it to our Tomelloso room, where it is generating gaming experiences among players that they had not had before."
Ángel de Benito, regional sales manager of Zitro, has expressed "our gratitude, once again, to the Jubelmar Group for their trust in MEGA y MORE. We are convinced that, together with the new games, they will be a success, now also in Tomelloso."
Categoría:Gaming
País: Spain
Región: EMEA
Event
(Sofia).- At an official ceremony hosted by the Black&White Club, part of the Palms Royale Sofia complex, the annual BEGE awards for achievements in the gaming and entertainment industry were given in the presence of senior management officials from the leading companies in the industry.
Thursday 23 Nov 2023 / 12:00
(Sofia).- It is with great pleasure to announce that CT Gaming has been honored with the prestigious 'Casino Management System of the Year' award at the BEGE Awards!
Thursday 23 Nov 2023 / 12:00
(Sofia).- CT Interactive, a leading provider of online gaming solutions, has won three prestigious awards. The company's game "Treasure Chase" was honored with the title of "Online Game of the Year," while CT Interactive itself was recognized as the "Online Provider of the Year" at the BEGE 2023 ceremony. The CEO of the company – Lachezar Petrov won the executive of the year award.
Wednesday 22 Nov 2023 / 12:00
SUSCRIBIRSE
Para suscribirse a nuestro newsletter, complete sus datos
Reciba todo el contenido más reciente en su correo electrónico varias veces al mes.
PODCAST
MÁS CONTENIDO RELACIONADO